Charolais is the breed with the magnificent white animals. It is a very old cultural race that originated in the middle French highlands. In the year 878, a French monk described these amazing white animals for the first time. However, one of Caesar's writers mentions white cattle from about 50 years before the birth of Christ.
Charolais is a muscular breed with relatively strong limbs. The color range goes from white to cream – some animals are a little darker. Originally, Charolais was used as both a trailing, milking and meat breed. Since 1773 the breed has been developed through a systematic breeding work into a highly specialized meat breed with high growth, slaughter percentage and slaughter classification. Which makes the breed the world's best producer of prime beef.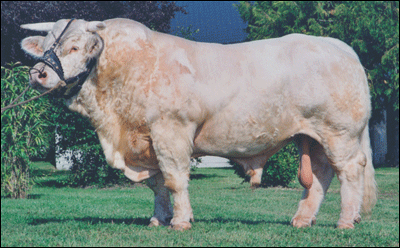 In Denmark there are approx. 4000 purebred, registered animals, of which almost 1,400 cows. Adult bulls weigh approx. 1200 – 1600 kg, cows 900 – 1200 kg. However In England a bull from this breed reached a weight of as much as 2000 kg. The heifers calve on average 2½ years old and the productive life expectancy is high. The breeding goal is high growth and good slaughter classification. In addition, emphasis is placed on light calving, milk, good temperament and low feed consumption.
The Charolais animals came to Denmark in 1959 and are now the most widely used breed in the country to produce the best beef and veal.
In 2010, the average on the individual sample was 1,851 g daily gain, 4.9 FE / kg. growth and 88 cm2 back muscle area. Charolais young bulls from practice, slaughtered under 12 months old, had an average carcass growth (net growth) of 757 g per year. day and they were classified as average in class U.
In general, the growth is large in relation to feed consumption. The average annual weight for bulls is 605 kg while for heifers it is 474 kg.
Charolais meat is well-marbled, juicy, tender and tasty. In France, there are specialized Charolais restaurants – you usually have to book your table well in advance.